Red Wine Aerator: Why Do You Need One?
12.07.09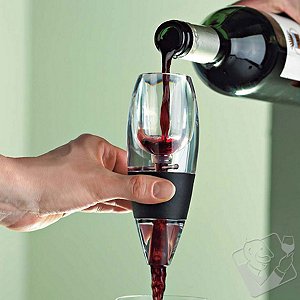 The Vinturi Red Wine Aerator is on the cutting edge of wine aerating. By pouring your wine through the aerator, you mix just the right amount of air with your wine at the precise moment. 
This see-through aerator allows your reds to breathe instantly. By using the aerator, you will benefit from a better bouquet, enhanced flavor, and a smoother finish.
This Aerator provides perfect aeration in the time it takes to pour a glass, making the process as easy as possible.
The Vinturi Red Wine Aerator comes with a no-drip base and a travel pouch. Both acrylic aerator and base are dishwasher safe, and the travel pouch is machine washable, making this entire process convenient for you. 
Click here to visit our Online Store and purchase an Aerator.