Paul and Merrill Bonarrigo to Speak at International Wine Tourism Conference in Portugal
01.21.11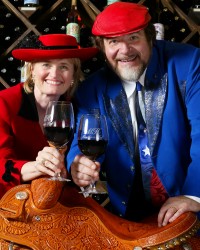 Paul and Merrill Bonarrigo, co-founders of the award-winning Messina Hof Winery and Resort, will participate in the 3rd Annual International Wine Tourism Conference & Workshop being held at the Pousada de Porto, Palacio do Freixo, Hotel in Porto, Portugal on Sunday, January 30 through Thursday February 3.
The Bonarrigos will lead a discussion on wine tourism, titled "Wine Tourism Texas Style," on January 31 during session 1.3. The Texas-centered discussion will detail the intricacies of tourism throughout the state, its agriculture, the growth of its wine industry as well as first hand experience from two of Texas' industry leaders.
The conference brings together wine tourism professionals from around the world to discuss, reflect and develop their ideas. The three-day program consists of more than 40 seminars, talks, workshops, panel discussions and plenary sessions offering educational and developmental opportunities for attending professionals.
During the workshop attendees will have the opportunity to interact with experienced European wine providers and carefully screened, high-quality tour operators and travel agents to learn about the international wine tourism in Europe. Tour Operators and travel agents will use the Wine Pleasures' Workshop to source new European wine experience programs and providers for their portfolios, as well as strengthen established business relationships.
For more information, please visit http://www.winepleasures.com/
Messina Hof Winery and Resort was established in 1977 by co-Founders Paul and Merrill Bonarrigo. Messina Hof was founded on family values, romance and tradition. Messina Hof is a leader in the establishment of the Texas wine industry and ranks as one of the fastest growing, most award-winning wineries in the state.
Four-time winner of the "Top Texas Wine" at the Houston Livestock Show and Rodeo, Messina Hof wines are handcrafted at the winery, located in Bryan, Texas. In 2009 Messina Hof was recognized as "Best of Herd" Winery, or best Texas winery, at the San Antonio Stock Show & Rodeo Wine Competition. Messina Hof Winery and Resort boast on their 100-acre property the Vintage House Restaurant, origin of Vineyard Cuisine, the Villa, which was voted "Most Romantic Bed and Breakfast in the USA" and the Wine Master's Room Wine Bar, voted best wine by the glass in the Brazos Valley. This year, Messina Hof was named "Texas Grand Star Champion" at the Lone Star International Wine Competition.